Bob, a lovely Majacraft Rose, will be the one helping me spin new and wonderful yarns from here on out. This is not by any means to exclude my old Louet S10 (previously and pretty much always referred to as "my old Louet S10") as there are still many, many more yards of yarn to come through its orfice (that almost sounds dirty, doesn't it!?)

Nevertheless, Bob is quite a wheel, new to me this week and already spun up 250 yards out of 1 ounce of 70/30 Merino/Tussah Silk!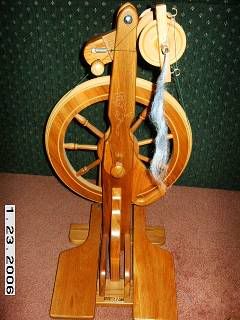 These first few test posts are just to figure out how to work the new blog/shop and to decide whether I would rather spend my time prettying up the html on this blog or spinning more yarn to post on this blog.

Check it out...betcha can guess which I chose!